match.com events
Lots of match.com events nationwide
match.com nights and organised socials
A relaxed and friendly atmosphere
Register now to be invited!
Current match.com events:
London
Special Event
Our relationship expert at your service!
London
Art & Culture
Walk in the shoes of the notorious East End gangsters
Register now for your chance to be invited to our match.com events
Previous match.com events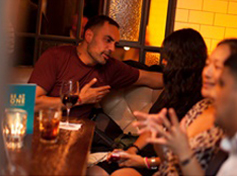 "Amazing night, fantastic venue, relaxed atmosphere, would definitely recommend it and gladly go again."
match.com night in London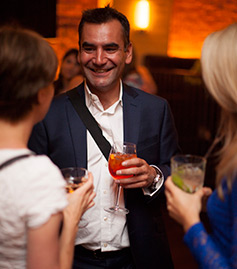 match.com events throughout the UK
match.com events
At match.com we're dedicated to giving our members more ways to meet other singles, which is why we started running our singles events.

match.com events are held in 21 cities across the country and provide a great opportunity to meet our members in a both a fun and relaxed environment.

We organise two types of singles events: match.com nights and match.com socials.

match.com nights bring local singles together in a casual bar environment to get to know each other over a few drinks. You're welcome to bring a friend along, and there's no need to worry you'll be the odd one out – we'll invite you to events for members of a similar age.

Our socials bring singles together over shared interests such as cookery classes, photography lessons and more – past events have included a speedboat ride down the Thames and a Sir Arthur Conan Doyle themed Detective Walking Tour.

Sign up to match.com today to be invited.

For more information on match.com events, check out our FAQ section
Become a partner venue
Would you like to host a match.com event at your venue? Please click here to complete the form.
Become a partner venue
Would you like to host a match.com event at your venue?
Please fill in the form below.
We will contact you as soon as possible.
Thank you, we are now processing your request.